What Do We know?
1. The Patent Trial and Appeal Board ("PTAB") has implemented a one-year pilot program that revises current motion to amend ("MTA") practice in America Invents Act trial proceedings.
2. Effective March 15, 2019 for all trial proceedings instituted on or after that date.
3. Patent owner has two new options: (1) request non-binding preliminary guidance from PTAB, that will issue one month after petitioner's opposition to a MTA, and (2) file a revised MTA in response to PTAB's guidance and/or petitioner's opposition.
4. PTAB preliminary guidance WILL:
Focus only on new claim limitations added in the MTA;
Provide an "initial discussion" of the MTA's statutory and regulatory compliance;
Provide an "initial discussion" of whether petitioner has "establishe[d] a reasonable likelihood that the substitute claims are unpatentable;" and
Take the form of a "short paper" (but Judges have option to provide oral guidance).
5. PTAB preliminary guidance WILL NOT:
Bind PTAB (it is not a final agency action or decision);
Address patentability of originally issued claims; or
Be subject to a rehearing request or judicial review.
6. A revised MTA replaces the MTA and MUST INCLUDE:
At least one new substitute claim to replace an MTA substitute claim; and
Amendments, arguments and evidence "responsive to issues raised in the preliminary guidance and/or petitioner's opposition to the MTA" (but not issues unrelated to those raised in the preliminary guidance and/or opposition).
7. A revised MTA MAY INCLUDE:
Substitute claims, arguments, and evidence from the original MTA (but no incorporation by reference); and
New arguments and evidence to establish the revised MTA meets statutory and regulatory requirements and to address patentability of the substitute claims.
8. Patent owner also can choose to file a reply to petitioner's opposition to the MTA and PTAB's preliminary guidance (if applicable), do nothing, or withdraw the MTA. PTAB has summarized the procedure and deadlines in the timeline below: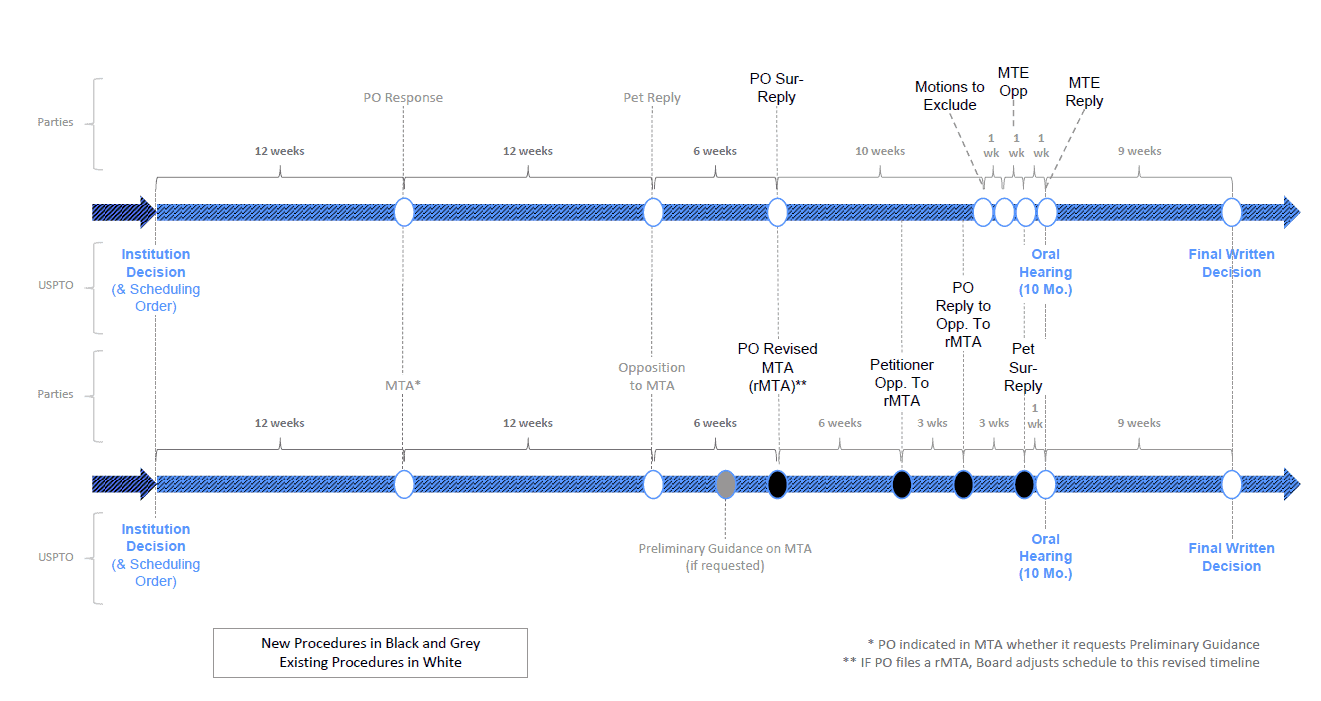 Observations and Practice Tips:
1. PTAB judges will face tremendous time pressure to provide meaningful MTA guidance without commenting on the originally issued claims.
For example, if the preliminary guidance suggests the proposed new claim limitations don't sufficiently distinguish over the prior art, are the issued claims necessarily unpatentable?
2. Look for PTAB to use a consistent, short form template for preliminary guidance.
3. Two as-of-right amendment opportunities should improve PTAB's grant rate for MTAs (currently ~ 10-15%) and support an incremental increase in MTA filings (but intervening rights and past damages concerns will continue to restrain MTA filings).
4. Rare will be the patent owner who does not request preliminary guidance from PTAB, although some comments suggest settlement might be dissuaded in certain circumstances.
5. Proposed time frames are punishingly short if a revised MTA is filed.
6. Patent owners can address §§ 101 and 112 issues in a MTA. Amazon.com, Inc. v. Uniloc Luxembourg S.A., IPR2017-00948, Paper 34 (PTAB Jan. 18, 2019) (designated Precedential March 18, 2019).
7. Petitioners should consider possible estoppel effects under 35 U.S.C. § 315(e).
For example, will a petitioner be estopped from raising §§ 101, 102, 103, and 112 defenses to amended claims in a district court infringement action?
8. Patent owners should consider possible prosecution history estoppel effects.
For example, will a patent owner want to state a clear disavowal of subject matter in its MTA or revised MTA?